choose the right portrait clothing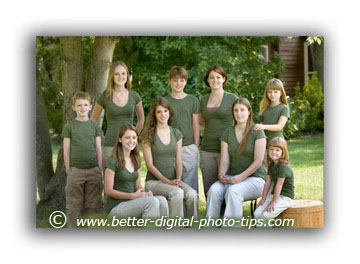 Choose your Portrait Clothing carefully.
Do this when planning clothing for portraits of yourself or for someone else you are photographing.
The clothing you choose for your picture is very important.
You want to choose clothing that does not attract attention to itself.
After all, the most important part of the portrait is you, not your clothing.
The color of your clothing should match the type of background you select. If the colors clash, you end up looking at the background and not the faces. The faces in a portrait are the most important part.
Generally if the background is subdued or dark, your clothing should be too. If you want to create a "High Key" portrait, wear light clothing and use a light background.
Traditional, posed family portraiture may also involve planning where you will display the family portrait. If this is the case, then plan you color scheme in conjunction with where the print will be displayed.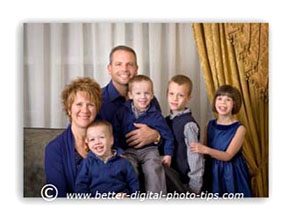 Wear solids. Stripes, plaids, patterns, and floral designs are all examples of distracting clothing for portraits.
Bold, bright colors attract attention away from the face.
Long sleeves and long pants are preferred portrait clothing.  This is particularly more important with adults than it is with children.
If you have 5 people in a group picture, then there are 10 arms and 10 legs in the photograph. Exposed arms and legs distract the viewer from looking at faces.
Pay attention to the neckline. Turtle necks or V-necks are usually flattering. Don't use wide or deep V-neck garments or bulky cowl neck sweaters that completely hide the neck. A wide-open neckline tends to thicken the neck in a photograph.
articles related to portrait clothing
How to Choose a Photographer. You may to hire a professional to take your family portrait. If you want some advice on finding a photographer, you may be interested in knowing the 6 keys on that topic.
Clothing for portraits. Go to part two for more tips on clothing and the other things to wear for a portrait.
Family portrait ideas. In addition to choosing good clothing for your portraits, coming up with creative family portrait ideas can also be a challenge. Here is an article to help give you some ideas for unique and different family portraits.
These are tips for taking digital photography that you want to follow to get great traditional portraits. You may also want to take a few risks and get creative. I encourage you to do both the traditional portrait photography and then step "out of the box" and break a few of the rules of portrait photography.
Go back to Family Portrait Poses
Go back from Portrait Clothing to Portrait Photography Tips
Return to Digital Photography Tips Main Page