best selfie stick



The selfie stick may become one of the most popular camera accessories sold this holiday season.

After all, the explosion of social media and the growing trend of selfie photo sharing is showing no signs of a decline.

Whether this is a good or bad thing is a topic to be explored later, but there is no doubt that these cell phone accessories are getting more and more popular.




Whatever you call them, camera extenders, selfie poles,  or selfie monopods, it looks like they are here to stay for a while. 

Let's talk about what you need to consider if you are searching for the best stick to take your self portrait.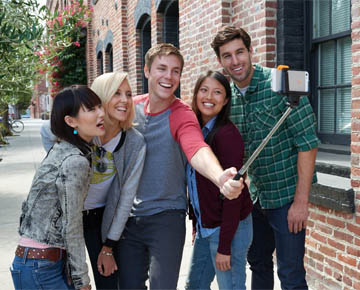 features the best selfie stick should have



This selfie stick has a USB port and On-Off switch built into the end of the handle.

Some camera extenders come with a separate remote shutter release accessory, meaning you have to hold the stick in one hand and hold the remote release in the other hand.

This model has the remote release button built in to the handle




This is a big one.  If it's too small it won't hold your camera sturdy when fully extended.  If it's too big you won't want to carry it along with you.






reasons to use a selfie stick
The taking of selfies has been criticized and so too are the sticks that make selfie portraits better. They are simply accessories, just like the regular camera monopod, that improve our photography experience and the quality of our images.
Here are some advantages of using a selfie pole:
1. Stranger Avoidance. You don't have to ask a stranger to handle your valuable camera or cell phone camera.  No possibility of them dropping your camera.
If you are too shy to talk to stranger, with a selfie monopod you don't have to request help from someone you don't know. No need to guess which stranger you can trust to get a decent photo.
2. No Arm Included. No distorted arm in the corner of the photo. You can compose your photo without the distraction of your arm with the right position of your arm when you shoot with a stick.
3. Groupie Photos.  Get your camera farther away to have a wider view. Great for groups photos and for showing more background behind you.
4. Creative Perspectives. You can get your camera higher or lower for more interesting angles. Overheads and ground-level perspectives often lead to really cool photographs.
Here is a 7 minute video that will give you some ideas on how these cell phone accessories are used.
I narrowed down my search to two best sticks and chose the one below.  It was by far the biggest seller and I really wanted the remote shutter button to be built into the handle.
It was a few more dollars to get that feature, but I only want to buy one of these gadgets and be satisfied with it.  My own detailed review of it will be coming shortly, so check back in a week or so.
Click the photo to read the reviews




This is the one I consider the best for my wishes.  It works well with my Samsung S3.  

It has the very highest ratings from shoppers and I like the money back guarantee I get from Amazon.

UPDATE:  Theses sticks are selling like crazy and this one sold out on Amazon, but you can still click the link to search for similar ones while supplies last.
Have  a blast with your self portraits!  It's a great time to be interested in digital photography and all of the equipment and accessories we've got at our disposal.
Shoot more selfies.
Watch less TV
Bruce
Go to Digital Photography Tips Main Page