Tamron 150-600mm Lens Review - Is It a Lens For You?

 - Why I sold my Canon 400mm f/5.6 L Lens to Get this tamron -
I "upgraded" to a Tamron 150-600mm lens after selling my Canon 400mm f/5.6 L lens. That might surprise you, particularly if you know that I am a Canon geek.
Here's a simplified side-by-side comparison of the Canon 400mm f/5.6 and the Tamron 140-600mm f/5.0-6.3.

 These two super telephoto lenses are in the same price range, but I really wanted the versatility that a zoom lens gives you. What do you lose if you go with the Tamron over a prime non-zooming lens?
Tamron A011C-700 SP 150-600mm
F/5-6.3 Di VC USD Zoom Lens on Canon 70D
I know bird lens and wildlife lens purists will tell you that you can't get the same sharpness with a zoom lens like this like you'll get with a prime lens.  If you're like me, you're not a professional sports photographer or National Geographic wildlife photographer that earns a living with their photos.
You don't have the same budget for a super telephoto as a pro does and you don;t have huge demands on what that lens can do.
You want a lens that gives you really sharp photos that look great. Perhaps you don't need to have the sharpest lens on the planet, you just want a real sharp lens.
That's called getting what you want without going overboard. You could spend $7,000-$12,000 to get a fast prime lens with the ultimate sharpness, but will that marginal increase in image quality be worth the extra thousands?
Canon 600mm f/4.0 "L" Prime Lens - Over $11,000
 Will others be able to look at your image and say: "oh yeah, you must have used a Tamron 150-600 lens."
I like the idea of spending less than $1000 and getting an EXCELLENT lens with a 4x zoom ratio. Yes I know, the Tamron 150-600 isn't perfecct-neither is my spelling!
But what are the sacrifices you'd make by using a Tamron 150-600mm lens rather than a more expensive prime lens?
The Tamron A
011 150-600

mm f/5.0-6.6 Lens Test Results *

The lens passed my lightbulb test with flying colors. Photographing light sources like this incandescent bulb can reveal lens defects.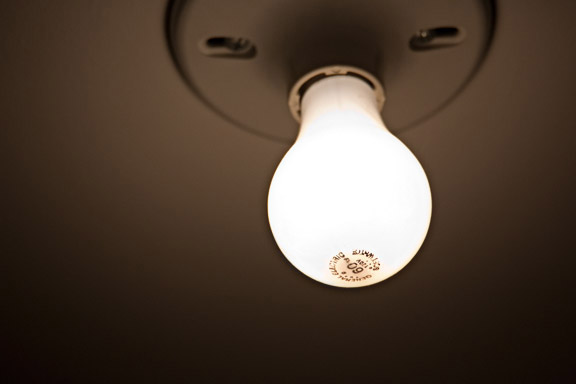 Light bulb lens test
I look at the following characteristics when evaluating camera lenses. Chromatic Aberration, Distortion, Sharpness, and Vignetting. The Tamron has all of these defects
Quick summary: these defects are not significant enough in this lens to be noticed by 98% of the viewing population, including the photographers who take them.
Here are the more detailed specifics on the lens deffects:
 Sharpness
Sharpness is the most important lens characteristic you should pay attention to. If your image isn't sharp, everything else doesn't matter.
The sharpness test results for the Tamron 150-600 are impressive. Lenses this long usually have issues with sharpness, but the Tamron SP A011 performed admirably.
Like most lenses, you can improve on sharpness by closing down 2 stops from the maximum aperture. I try to do this as a rule to give me just a little boost in depth of field because it is so shallow with lenses that are this long.
Tamron
150-600

Chromatic Aberration

Chromatic aberration can be an issue in high contrast areas of photos. It's that fringing of colors, usually either cyan/red or green/magenta. Many cameras automatically remove these aberrations when jpgs are processed, or you can remove it when you process raw images in your software.

The chromatic aberration is very mild at the 150mm setting on this lens and a little more apparent at the 600mm setting, but it's till fairly minimal for a lens this long.
Distortion 
The 150-600 lens has very mild pincushion distortion. This is different than many zoom lenses that typically have barrel distortion. The Tamron lens is also unique in the fact that the pincushion distortion is consistent across its entire zoom range.
If you're using this lens for birds, wildlife, sports, or portraits, you'd really have to look for it and even then I doubt you'll be able to detect it.
If you were photographing perfect grids or architecture with long straight lines you would have to apply a little correction with software.
Vignetting
This is the least important lens defect. Not only is it mild and evenly spaced with the Tamron 150-600mm lens, I consider it to be advantageous to have some mild darkening of the corners in photos. It naturally brings your attention into the important areas of the image.
Tamron 150-600mm Specs
Minimum Focus - 8.9 feet from camera
Length retracted - 10.2 inches
Length Extended - 13.7 inches
Weight with collar and hood attached - 4.7 lb
95 mm filter size

Maximum f/stop - f/5.0 at 150mm and f/6.3 at 600mm
Minimum f/stop -f/32 at 150mm and f/40 at 600mm
20 elements in 13 groups
9 blades in diaphragm - gives good bokeh
Zoom Samples
I drove to a local park and focused on this pavilion that overlooks a soccer field. I was about 70 yards away and compared my Tamron at 4 different zoom settings.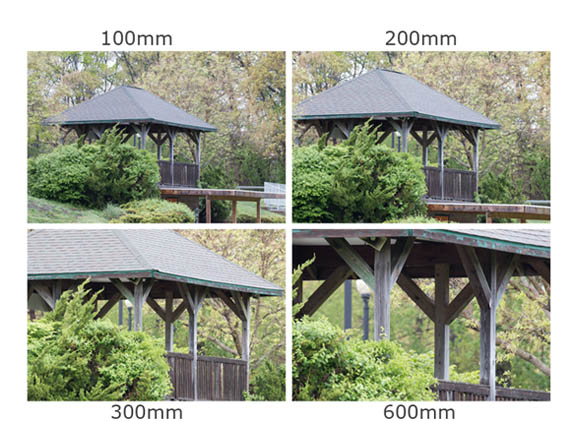 Tamron 150-600 set at 100mm, 200mm, 300mm, and 600mm.
This lens definitely qualifies as a bird lens, a wildlife lens, and a sports photography lens. Particularly with  APS-C sensor camera like the Canon t3, t4, t5, t6, 60D, 70D, 80D, 7D, 7D Mark II, and the Nikon DX cameras like the D7100, D7200, D5300, D3300, D500.



Comparison of angle of view at 50mm, at 150mm, and at 600mm
The angle of view is so narrow with the Tamron 150-600 on a crop sensor camera that you feel like you have enough power to photograph anything at any distance.
This brings your subject in remarkable close. If you are a newbie like me in this focal length range, you'll giggle with excitement when you first look through your viewfinder with this lens attached.
The truth About the Tamron 150-600mm zoom ratio
A 4x zoom ratio is pretty darn good for a lens this powerful, but is it accurate? As it turns out many lens manufacturers (Tamron included) are not diligent in constructing lenses to exact and convenient focal lengths.
That's actually a good thing. If lenses like the Tamron were described as a 147-580mm zoom it would make comparisons pretty challenging, right? As it turns out the tests have shown the Tamron to max out at about 570mm.
Prime lenses are usually quite close in being manufactured to be quite close to their claimed focal lengths. Super wide and long telephoto zooms tend to have a bit more leeway in measuring exactly to their descriptive focal lengths. 
Tamron
150-600

mm Focal Length Comparison Video
---

Tamron 150-600mm Zoom Lens Markings
I compared the difference in magnification of the Tamron lens with a standard 50mm lens in the following video. I used the 9 pre-set marks on the lens to set the magnification and shot photos of my fish pond from the deck on the back of my house.
Comparing the view of the Leinenkugel beer bottle shot with the 50mm vs the Tamron set at 600mm gives you an idea of how powerful this lens is. 
The Ubiquitous Un-boxing - "What comes in the Box"
I've heard that some people like to see video of "what comes in the box" before they purchase something. I guess it's because they want to know EXACTLY what they're getting.
To that point I shot this video: The unboxing of the Tamon 150-600mm Lens. I sped it up so that you wouldn't get too bored.
Also included in the packaging was an "owners manual."  What's not included when you buy this lens is a lens filter or a lens case to protect your lens. They might be the first lens accessories you should consider.
This is what the owner's manual looks like: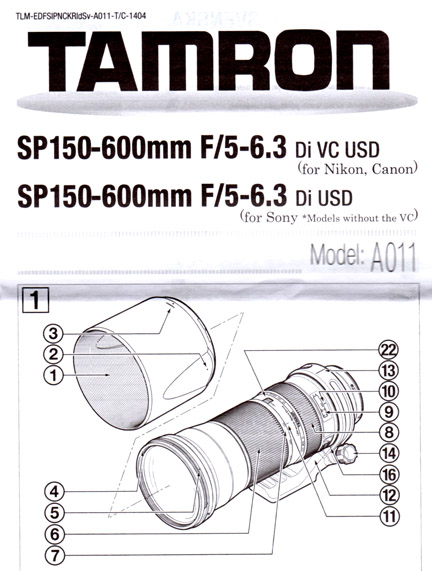 Tamron 150-600 Owner's Manual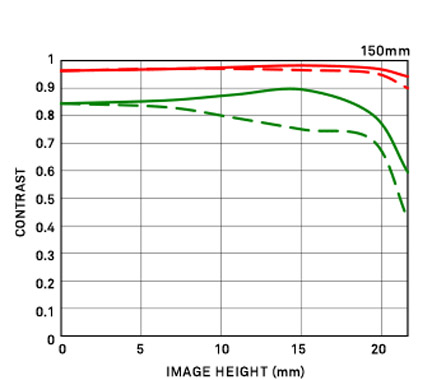 Lens Diffraction Chart
Because of my engineering background, I used to get numbers bound.
I'd look at exact comparisons of megapixels on a sensors.
I'd compare lenses by using the number of lens elements and lens groupings used in lens designs.
---
I'd check out lens diffraction charts and use the data in picking a favorite lens.
Then I got smarter.
I still check out the technical reviews.
But unless there is a glaring weakness revealed, I don't use the data alone to make a buying decision.
Now I read the summaries on the nerdy lens review sites and combine that with the actual consumer reviews of photographers who have purchased a specific lens, like the Tamron SP 150-600mm f/5-6.3 Di VC USD.
The Lens Collar - Lens Ring
Appropriately, the lens ring is strong and sturdy, which it should be for a lens this size. Lenses that are 200mm and longer in length should have tripod collars.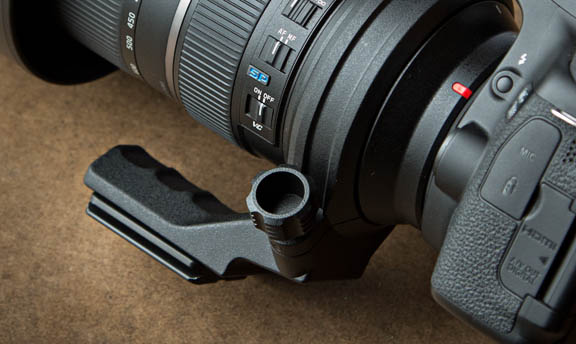 Tamron 150-600 Lens Ring Close-up
This is the largest lens collar foot I've ever handled personally and it actually doubles as a secure handle for this lens. This is a nice feature that I didn't expect and having a solid way to hold a heavy lens is appreciated.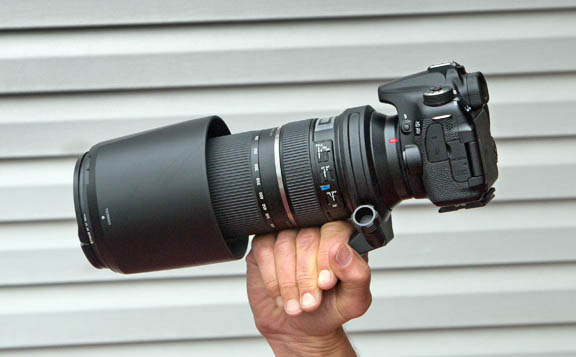 That's something I could not do as easily with my Canon 400mm f/5.6.
Tamron Focusing
The USD (Ultra Silent Drive) works quickly and quietly. It is a vari-focal zoom mean that if you zoom in or out the focus will change. This sounds bad, but in actuality the focus shift is very small and your lens will re-focus almost instantly as you press your shutter button down.
I tested to confirm the minimum focusing distance on the 150-600mm lens at full zoom of 600.
Bottle Caps Close-up With Tamron at 600mm - Minimum Focusing Distance
This photo of the beer bottle caps at 600mm was shot at just over 9 feet from the front of the camera. I focused on the "XX" and this image is the uncropped original.
I was surprised at how tight this shot was, almost a macro photo. More 150-600 Samples.
Image Stabilization on the Tamron 150-600
Tamron's proprietary image stabilization system is called VC, or Vibration Compensation. Tamron lens designers employed a 3 coil system to overcome amplified camera movement from its powerful zoom capabilities.
Vibration Control/Image Stabilization and Focus Switches on Tamron 150-600
Three coils activate the shake-compensating lens group, within the lens electronically, using 3 ceramic ball bearings. That compensating lens group is held in place by the ball bearings and gives smooth movement to counteract an movement during exposure.
This simplified mechanical structure helps keep the lens fairly compact and easier to use for us.
Tamron Lens Design
In my very early days of photography, I learned that the number of lens elements correlated with the quality of the lens. I don't know if that still holds true, but this lens definitely is sophisticated in it's design.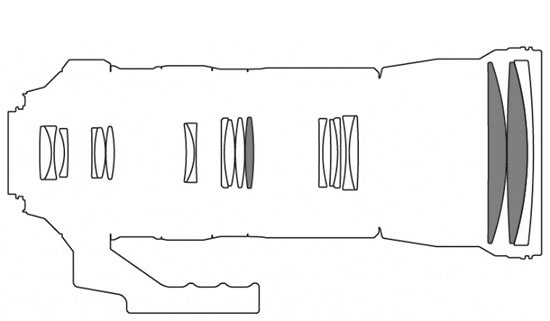 Tamron 150-600mm Lens Design Diagram
The Tamron 150-600mm f/5-6.3 Di VC USD lens has 20 lens elements organized into 13 groups.
* I don't do the technical camera and lens tests myself. I leave that for the experts. I read several different technical reviews and average them out for you.
Even though manufacturing processes are very consistent, every lens and camera will be very slightly different. Lens/camera combinations will be different too and that can skew your opinion if you read just one good or bad review.
I don't report the actual numbers from test results sites because there can be variations caused by exposure, choice of target, ISO, exposure, focusing accuracy and other factors.
I think it's more practical to combine the technical results from several sources with the opinions of other everyday photographers and read their opinions. That's what this site is all about.
Alternative Lenses to the Tamron
Nikkor 200-500
If you shoot with Nikon camera, the Nikkor 200-500mm is a decent alternative. It has a slightly shorter zoom range and is a little steeper in price.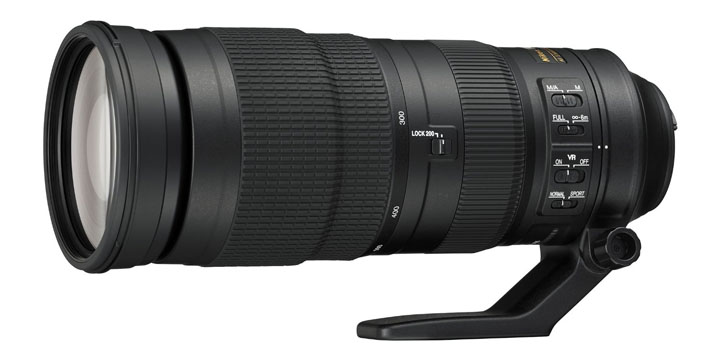 Nikkor 200-500mm. Alternative to the Tamron 150-600
About $1,400.
You get the unbeatable quality of a Nikkor lens and the image quality that Nikonians swear by.
A whopping 96% of consumers give this lens a 4 or 5 star rating.
The zoom range is quite a bit shorter at only 2.25x versus the Tamron's 4x.
Sigma 150-600
You can get the Sigma 150-600mm shown below and its consumer ratings are almost exactly the same as the Tamron.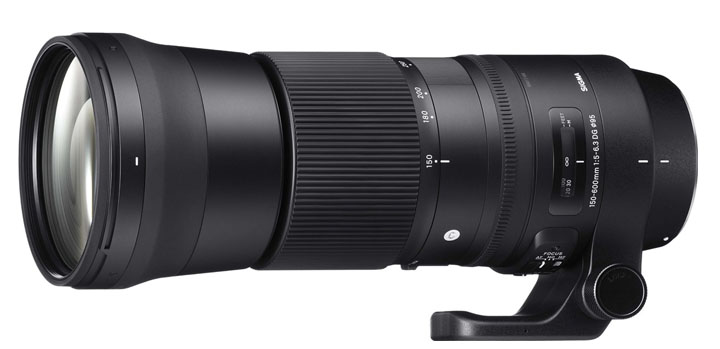 Sigma 150-600 Super Telephoto Zoom Lens
About $990
Just like the Tamron you can get the Sigma 150-600 Super Telephoto Zoom Lens for Nikon or Canon.
There is a Sport/Wildlife version of this lens and the "regular" version too.
I did not investigate this lens as thoroughly, but you can read the buyer reviews on Amazon.
I've skimmed over the lens tests on the Sigma 150-600 as an alternative to the Tamron 150-600 and I can;t honestly say that the Tamron is a better lens. as I mentioned elsewhere, I am biased because of my talk with another nature photography enthusiast who really loved her Tamron version of this lens.
Canon
100-400

f/4-5.6

The newer version of the Canon 100-400 is the Canon EF 100-400mm f/4.5-5.6L IS II USM Lens. It was about 16 years (an eternity in the world of new releases) between the two Canon versions of this lens.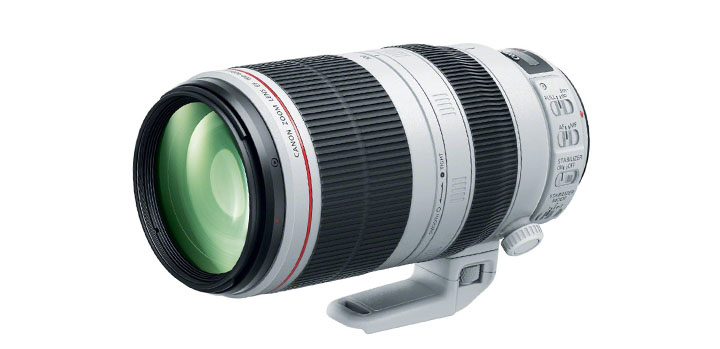 Canon EF 100-400mm f/4.5-5.6L IS II USM Lens
About $2,100.
Some skeptics might say this is more of a high end portrait lens rather than a true sports/wildlife lens.

I found that using my Canon 400mm f/5.6 was strong enough for local wildlife and sports, but came up a bit short for serious bird photography.
With a maximum aperture of 4.5 at the short end you gain about 1/3 of an f/stop.
The cost of this lens is more than double the Tamron 150-600. The original Canon 100-400 is only around $1,400
Places to Get a Good deal
There are tons of places to get a good deal on your Tamron 150-600mm lens or an alternative that you like better. Please consider using one of the trusted vendors I've used below.
You get a good price, great delivery options, fair return policies, and it helps me keep this site going for the referral. 
---
Condensed Tamron
150-600

mm Review

If you held a gun to my head and said I had to give a two-word review of the Tamron 150-600 lens I'd tell you "Get one." or I could also say "Affordable Performance."

You found this article and now you're reading up on my opinion of the Tamron 150-600mm lens. I purchased one for several reasons.
I got to talk to a photographer about hers during a wildlife photography workshop.

I joined a Facebook page on the Tamron 150-600mm and learned a lot there.

I read tons of reviews on Amazon.

I read the technical lens reports on several geeky lens review sites.
I hope this article has helped you. If so, please share it.
Shoot more photos.
Watch less TV.
Bruce
More Specs and Features of the Tamron 150-600
More Sample Photos Taken With the Tamron 150-600