nature photography for beginners
Exploring the topic of nature photography for beginners has been challenging for me. The intention of the Digital Photography Tips web site is to provide relevant, practical tips that help its readers improve their photography.

Nature photography itself is such a very broad topic and beginning photographers come from a wide range of backgrounds with various degrees of experience. I posted a couple of quick nature photography tips later in this post as well as several sources for additional readings.

Although I've made my livelihood as a professional photographer for over 30 years, I consider myself to be a beginning nature photographer myself. With that said I believe I can share some valuable information with the beginning nature photographer.
nature photography categories 
Nature photography encompasses a wide gamut of photographic images and styles.  Landscape photography,  Macro photography,  Wildlife photography,  Bird photography, Insect photography to name a few, all could be considered categories of nature photography. 
Whatever your specific interest is in photographing the natural world, the basic principles of good lighting and composition are blended with the artistic and technical aspects of image capture and finished off with the now myriad of post-capture processing possibilities.
nature photography for beginners - quick tips
Research an area first.  If you are planning to travel to a location where you will have the opportunity to photograph nature, study the photographs of other image makers.  Plan your trip both for the best time of day as well as the time of year.
Take the standard shots with camera at eye-level first.  Then change your perspective.  Lower vantage points are often under-utilized.  Higher perspectives often require safety precautions and more effort.
Use the rule of thirds in photography as a starting point for a good photo composition technique if it makes sense.  There are other "rules"  that you should be familiar with.  Follow them at times and break them purposely too to expand your creativity.
 Use a tripod.  Yes, I know, it takes a little effort, but a tripod will serve you in several ways.  It will give you sharper images, particularly in low light situations where a slow shutter speed is often required.
A tripod also gets you to slow down, take your time, and analyse your composition. In the case of moving objects, like birds and wildlife, you may end up preferring to use a monopod.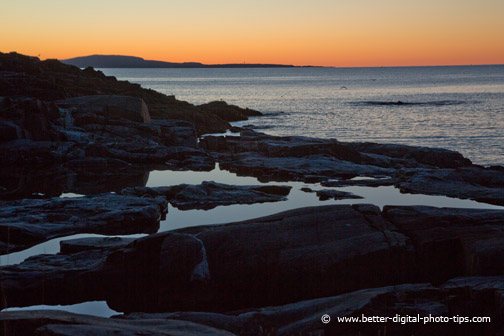 This photo was taken at sunrise, not sunset.  I had to set the tripod at just the right height to get the tidal pools show up to this extent.  If I had set my camera lower, the tidal pools would have been hidden.  If I had set the camera higher I would have lost the rocks in the foreground as part of the photograph.
other resources for beginning nature photographers
I've linked to other related article on this site as well as some other really good ones elsewhere on the internet.  The links to the external web sites will open in a new browser window.
It is an exciting time to explore nature photography for beginners and experts alike.  The field is becoming crowded with talent and the number of tools available to all of us is astonishing.
Shoot more nature photos. Watch less TV.
---
Leave Nature Photography for Beginners  -  Return to Main Nature Photography Page
Read about the books on nature photography by Art Wolfe
Go to Digital Photography Tips Home Page