how to backup photos
Here's the simple method of how to backup photos. The diagram below shows the quick, step by step way to backup your photos. It's critical for you to have a system in place to protect your important photos and video.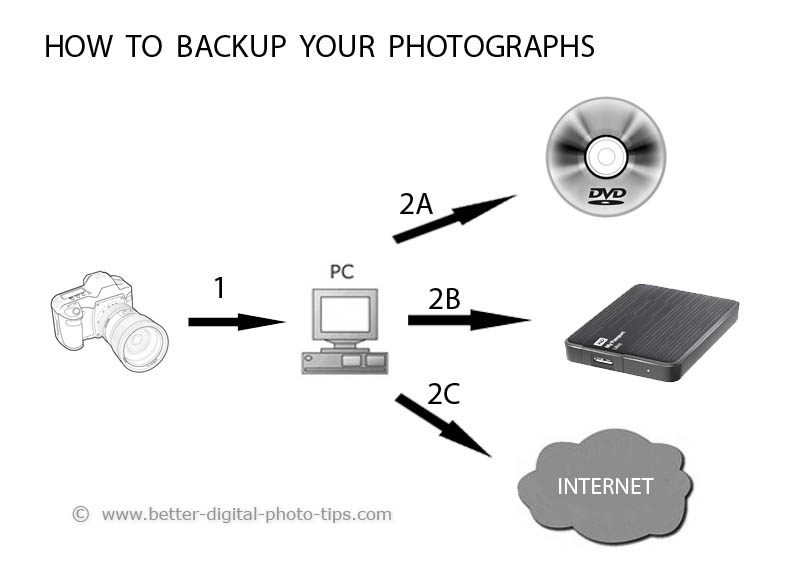 Knowing how to backup photos is only half the battle.  Just as important is being consistent at backing up all of your photos right after you take them.  Like many other repeating tasks to do, the best idea is to make it a habit.
the
3

steps of backing up your digital photos

Here is the step-by-step, surefire way to copy and protect your precious images.



1.

download the photos to your hard drive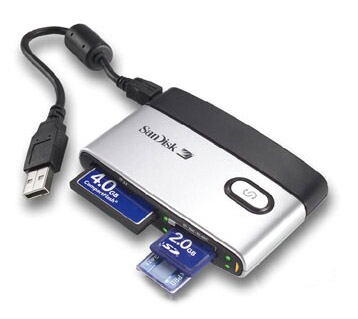 There are two easy ways to copy your photos from your camera to your computer's hard drive. 
You can either remove your memory card and use an adapter for USB connection or just tether your camera directly to the USB port on your computer.
Method A. You can use an adapter like this one pictured.
First, make sure your camera is off .  Open the memory card door to gain access to and remove the memory card.  Plug it into an adapter and plug the adapter into a USB port on your computer. 
Method B.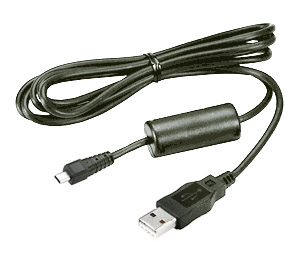 Method B is a little simpler. It will use up a little bit of your battery, but to me it's not a big deal.  
Simple turn your camera on and connect your camera to the computer using a cord like the one shown here.
2.

 make a second backup 

Once all of the photos have been copied to the hard drive it's time to make a 2nd copy to a location that is not part of your computer system.

Some people use complicated and expensive RAID systems that use mirrored hard drives networked as a system with a second location of a computer within their home.

I prefer to keep it simple.  You can backup the newly added photos from your computer to one or more of the following.

A.  Burn a CD, DVD, or Blu-Ray Disk.

B.  Copy to an external hard drive like a My PassPort portable hard drive.

C.  Back them up using a free or very affordable on-line service.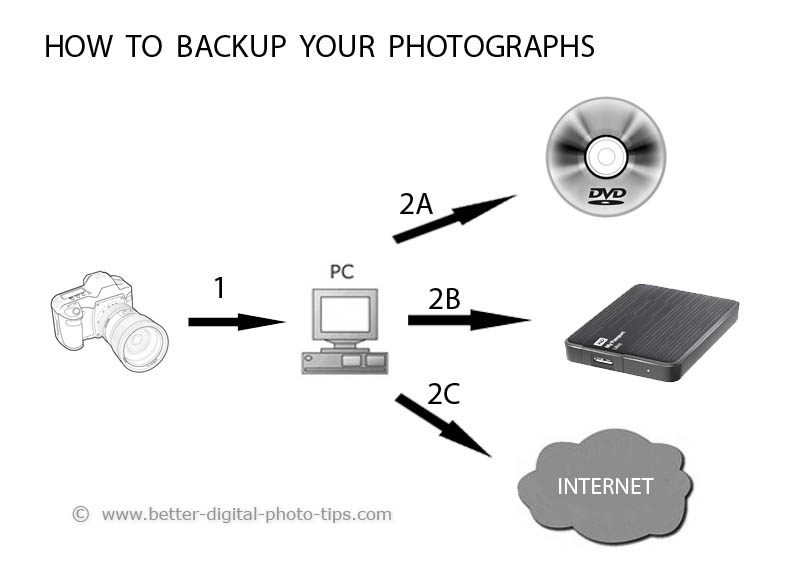 3.

format your memory card

Once you have your photos on your hard drive and a second separate location you should remove them from your camera.  This may make some of us uncomfortable at first, but it is a good idea to do this once you have verified that you have the two copies saved in separate locations.

Formatting is better than deleting files individually for two reasons.  It's a whole lot faster and it's a better way to keep your memory cards working efficiently.
---
---
using a "how to backup photos" system
Backing up photos is both one of the curses and blessings of digital photography.  In the days of film, you simply could store your film negatives in a cool, dry, and secure location.
Digital image storage solutions have issues regarding their longevity.  CD, DVD,and Blu-Ray disks do deteriorate over time. Hard drives can crash and memory cards can become corrupted.
The important things with any backup systems you choose are that they are simple to use and that they are secure.
One of the most popular solutions to use is a Google Photo Storage backup system. 
If you enjoyed this article titled "How to Backup Photos" please share it with a friend.
Go to Better Digital Photography Tips Home Page
Go to Photo Backup Using an External Hard Drive
Happy Shooting!
Bruce