flickr
One of the reasons that Flickr is a bit different than the other photo sharing sites out there is that it has a strong sense of time and immediacy.  Here is one of the photos I posted on Flickr.  I got the idea for creating a real simple photo like this from looking at the work of other photographers.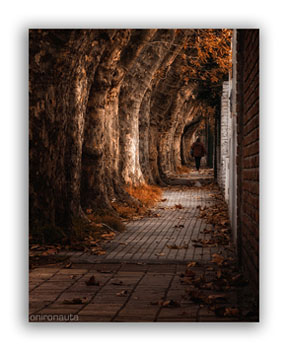 You can use the site to give people updates on what you are doing as it happens.
It is called Photostream and you get to have your own photostream as a member.
You can view and share digital photos with friends, family and other photographers and also leave and get comments on photos.
Titled "Autumn Remains 2..." this photo can be found on Onironauta's Photostream.
This photography site has a great search tool to look for contacts, friends, favorite pictures, locations, photo groups, or other members.
You get control over what you choose to make public or private. If you want to share private photos with people, you can use what is called a Guest Pass.
You can share public photos in your photostream by copying the URL in your browser's address bar and pasting it an email. Anyone can see your public photos anytime, whether they're a member or not.
flickr membership
It's basic membership has lots of great features and you can upgrade to PRO status for only $24.95 for an entire year. When you have a free account, you can upload 100MB worth of photos every month. Pro Status allows you to unlimited uploads of video and photographs and archiving your digital photos as well.
If you've got questions on how to use anything, on how to upload photos, questions on favorites, tags, groups; there is a great help section. If you'd like to do a little self-help, you can browse the FAQs and Help Forum.
There is another search tool as well called explore, where you can take advantage of this amazing sites other features. It's like a Photography Facebook on Steroids with some Youtube video and some Camera information and applications mixed in.
It does take some time to learn all of the features, but there is so much help available. Did I mention it has it's own email program built in to contact other members?
The Flickr galleries are a great source of inspiration for ideas as you become a better photographer. The Digital Photography Tips that you are getting on this photography site are even more fun when you get a grasp of the amazing diversity our world presents to us every day.

It was launched to 2005 and purchased by Yahoo in 2006.  This site reported had over 90,000,000 users in May of 2013 and close to 4,000,000 uploads every day. That is staggering.
The key thing to do is to find a few photographers that you really like or find a subject matter that you are really interested in and stick to that narrow view until you get some more perspective on what you want to accomplish with your photography.
Back from Flickr to Share Your Photos 
Back from Flickr to Digital Photo Tips Home Page