tripod pistol grip ball head

joystick tripod heads and vertical grips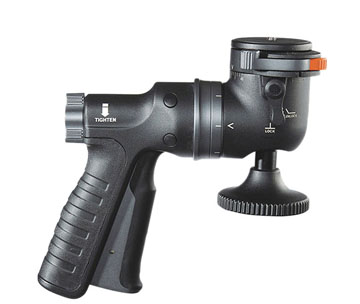 Vanguard Pistol Grip Ball Tripod Head
What is a tripod pistol grip ball head and why would you want one?
A pistol grip head gives you the ability to adjust your camera very quickly.
You can briefly squeeze the trigger, make a quick adjustment in camera position, release, and shoot.
"I find the tripod pistol grip ball head to be a lifesaver when it comes to shooting schools and team photos." Bruce Lovelace

advantages of pistol grip tripod heads
1. They're fast. Really fast. This is the biggest advantage of all!
This is my Manfrotto grip. It's a little different design than the traditional pistol grip head.
I do most of my shoots on location, so I like that it's more compact than the traditional pistol grips.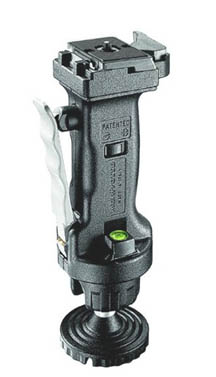 My Favorite Grip
2. Pistol grips are fun. Part of the appeal of photography is to enjoy the experience of creating a photograph, not just the end result of a nice picture.
3. Moving subjects. It's more convenient for you to be able to make adjustments for a target that's moving. Traditional ball heads and 3-way handle heads require a loosening and then tightening of a knob or knobs.
4. Adjustments in composition. It easy to make big or small vertical, horizontal, or rotational adjustments in your image all at the same time. This is true for all tripod ball heads.
disadvantages of pistol grip tripod heads
1.Not as sturdy in sideways position
2.If you are making continuous movements, it requires you to keep a hand on the grip. If you need to zoom in and out at the same time, you would need a third hand to trigger the shutter at the same time.
You might think this is just nitpicking. You're not the only one.
If you are shooting a moving subject AND needing to zoom in and out, you'd make out better by using a monopod.
3. Over time with repeated, the tension may loosen. The better models have a tightening screw, usually a hex nut to adjust the tension.
4. Weight. They're a little heavier to carry. Heavier is steadier and that's generally what you want.
If you're hiking into remote nature spots, you'd be be better of with a traditional ball head.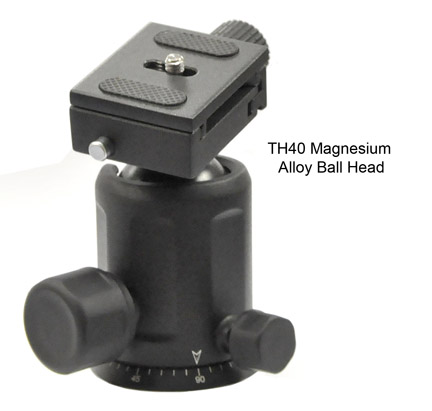 Traditional Ball Head

types of grip heads and factors to consider
types of pistol grips
You can get your pistol grip head in a variety of different designs. Almost all of them have quick release plates built in.
Awkward Handle-Trigger Angle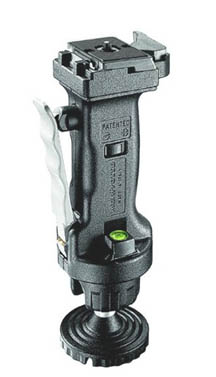 Vertical Joystick
Ball Head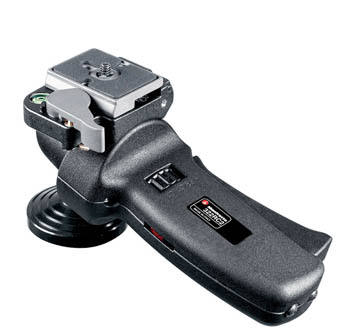 Manfrotto Sideways Joystick
Tripod Ball Head
Speaking more accurately, these three tripod heads might be called joystick heads. Pistol grip and joystick heads function in the same way.
Squeeze to move position. Release to lock position.
The sideways joystick models are the best sellers. I like the vertical joystick. It all depends on your shooting style.
characteristics of pistol grip heads
1. The size and position of the trigger. Visualize how your hand will be on the trigger.
2. The amount of tension. Make sure you can adjust the tension to be just right for your camera and lens combination.
3. Range of motion. Some designs use one or two slots or notches to allow you to go a full 90 degrees to a horizontal position.
best place to read reviews on tripod pistol grip ball heads
How do you pick the right tripod head for you? If you've read some of the articles on this site about cameras, lenses, and accessories you know my thoughts.
Go to the source with the most reviews written by consumers. 
I still sometimes go to the big web sites of dedicated camera retailers.
But, I always find myself going to Amazon to get the best variety of in-depth opinions on camera equipment.
I confess that I am biased because I am an affiliate of theirs, but even if I wasn't, I'd still be a reader.
In the right situation this type of grip will suit your needs and is easy to use.
I would NOT recommend them for full-sized DSLRs with long lenses and significant angles.
I have used my tripod pistol grip ball head and a Canon 5D mark III and a 70-200 f/2.8 mounted using the lens collar many times.
This combination is for horizontal photos without much tilt or rotation. This is how I almost always shoot family portraits.
Good luck. I hope this gave you some ideas. Please share!
Shoot more photos.
Watch less TV.
Bruce
Leave Tripod Pistol Grip Ball Heads - Return to Camera Tripod Reviews
Go to Digital Photography Tips HOME PAGE