macro photography art

artistic close-up photos
Would you consider the abstract photo above to be macro photography art? It's a macro photo of the inside of an orange Lily using a very shallow depth of field.

Many feel that photography in and of itself is intrinsically art. I am not so sure. Does a quick unplanned snapshot, without any thought of composition, color, lighting or subject matter qualify as art?
Perhaps the expression: One man's trash is another man's treasure is a saying that can apply to one's interpretation of what art is.
The definition given by Wikipedia is: "Art is the product or process of deliberately arranging items (often with symbolic significance) in a way that influences and affects one or more of the senses, emotions, and intellect."
All of the photos in this article titled macro photography art make use of bright colors. In my mind, they have artistic qualities.
These top three macro photographs were taken within a 15 minute span. All of them were taken of the same flowering Lily plant.
When you are working at macro distances, often a slight change in direction of shooting will give you a completely different photo.
I don't consider myself artistically talented, although I feel I can occasionally get creative images using macro photography as a tool. These photos could all be called abstract macro photography art.
The photo above is actually a bit over-exposed according to the color histogram in Photoshop's raw image converter.
I like the surreal, vibrant look of the photo, so I did very little adjustment of the resulting photo from the camera's settings. The composition is a bit non-traditional which is something I rarely do with my portrait work.
The abstract photo below isn't a true macro, but I included it in the article because it fits the topic.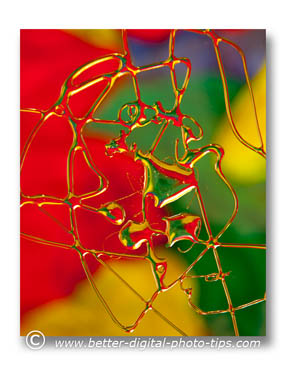 I don't particularly like the resulting photo I made, but I had a lot of creative, childlike fun taking it.
I got the idea from someone's blog on macro photography.
Can you guess how I created it?
The answer is below, but I encourage you to analyze the photo first and use a few hints I give you.
Let's have a little fun with this.
It is a close-up. The zoom lens has macro focusing, but really wasn't at a macro focusing distance.
I may re-create this effect again, but next time with using my extension tubes on my Canon 5d with an 85mm prime lens.
It is a thick liquid dripped onto a glass surface.
The liquid was actually Karo syrup dripped onto a 11x14 inch pane of glass that was clipped to the edge of my work bench.
The colors were from a colorful children's play parachute that was placed a few feet away on the floor, underneath the drippings on the glass.
The final example of photography art is also of the same original flowering Lily plant.
With this one, I used "Adjustment Curves" in Photoshop to make it abstract.
If you resort to software manipulations of your photography after you capture them in camera, the possibilities are literally infinite.
This is a good example of why I try to stick to photography and staying away from too much abstract creativity.
Although it may be visually interesting, I am not so sure it qualifies to be called art. Take advantage of the tips, techniques and advice on photography equipment, lighting and composition found elsewhere on this photography site.
links related to macro photography art
Abstract Macro Photography. I included this article on the Digital Photo Tips photography web site for anyone interested in macro-related abstract photography.
Macro Photography Equipment.  Can be simple.  Can be complicated.  You can choose to invest in expensive close-up equipment or you can get decent results with cheap equipment.
Happy Shooting!
Bruce


p.s. Do you have any macro photography art you would like to share? Perhaps you would welcome photographers to critique your photographs.
share your macro photograph
Do you have a macro photograph to share?
Go to Macro Photography Accessories
Back from Macro Photography Art to Macro Photography

Back to Better Digital Photography Tips