creative family portraits
Need some ideas for Creative Family Portraits?
There are a couple of ways to generate ideas in your mind.
Try these on a regular basis and it is pretty surprising how many directions your thoughts can go.
visit a creative portrait studio
Visit your local portrait studio and look at the group photos displayed on their walls. Many studios might only have those stiff, traditional formal photographs. Look for anything unique that stands out from the rest.
Seeing, on display and in person a well-designed, well thought out family portrait that was professionally printed and framed can be quite inspiring. Ask yourself two questions: What do I like about it? What would I do differently?
Another variation of this thought is to visit a local art gallery or art display at your local shopping mall. If you focus your thoughts on finding something new, you'll be amazed at what you can find.
find creative poses on the internet
Duh!  That's what you are already doing now isn't it.  That's likely how you found this page.  I am a big Google fan, so I invest a lot of time searching for things relating to my passion for photography.
In addition to just using Google to search for high-ranking web content relating to creative family portraits, YouTube, Flickr, and Pinterest are great resources too.  Pinterest, in particular has exploded with photographs with creative posing examples.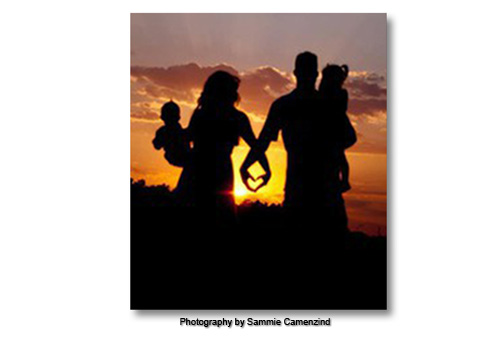 This is a very creative portrait of a young family. You could do this silhouette pose at sunset or with a variety of backgrounds that have strong back lighting.
Your search may yield some bad posing and some poor lighting technique. You still may get some creative inspiration based on what comes up.
Remember what your looking for and try not to get distracted by clicking on links that are unrelated to creative family portraits.
Consider trying a family pose that shows the special relationship between parents and their children. Simple backgrounds may not be as exciting as a spectacular sunset, but your portrait may become more centered on the bond between family members and not the background.
Theme-based family portraits were very popular a few decades ago. Perhaps they may become popular again and be a good option to try.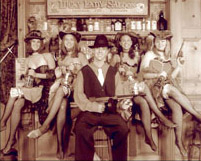 Consider whether you are willing to buy or borrow clothing to create a theme.
Ask yourself if you have any interesting clothing of a special color or style that you can use?
Think of all the Halloween costumes you've seen. Are there any that would be appropriate for what you are trying to achieve?
Portrait Photography Books. In addition to these articles on Better Digital Photo Tips many people, including yours truly, like tangible, printed, portrait photography books.
Family Portrait Ideas. For a few more sample photos of creative family portrait ideas read this article. At the bottom of the page are more ideas contributed by readers. Would you like to share your family portrait photography ideas?
How about it? Do you have any family photo ideas that haven't been touched on here? Ask your friends or relatives to join in and give you some ideas. Planning can be quite involved, so make sure to keep it fun.
Shoot more photos
Watch less TV
Back from Creative Family Portraits to Photograph People

Back to Digital Photo Tips Home Page